Alfred Dunhill opened his tobacco shop in 1907 in London's Duke Street. At the very beginning, the pipes sold were bought in from independent pipe makers. Unsatisfied with the quality of those pipes, an internal workshop was set up in 1910 in immediate proximity of the shop.

Around 1912, Alfred introduced to his pipes the WHITE SPOT DOT, showing staff and the esteemed clientele alike the correct way of (re)positioning the hand-cut mouthpiece on the dunhill pipe.

This small, discrete symbol would soon become a sign of recognition for various dunhill products, an internationally registered trademark and the ultimate accolade of highest workmanship and quality.

Thus, the famous WHITE SPOT was born.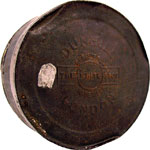 Tobacco Tin (mid 1920s)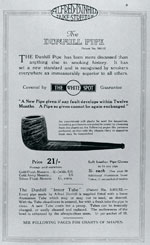 Advertising (1923)
The WHITE SPOT LOGO - internally often referred to as the tube sign due to its similarity with the London Underground logo - was registered as a trademark in the early 1920's and has been in continuous use ever since.
It is the symbol of nearly 100 years of unbroken tradition.
Nowadays, with the tobacco related interests long sold, dunhill's WHITE SPOT DIVISION proudly continues Alfred's vision for excellence.
Maintaining both the same manufacturing methods and strict quality criteria as laid down by Alfred Dunhill himself results in the creation of some of the best pipes and finest smoker's accessories available today.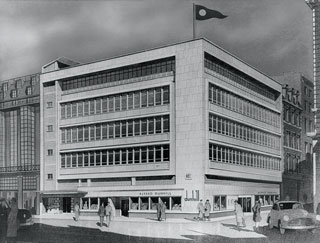 Duke Street Store with White Spot Flag (1950s)